T.P.O Roofing System in Killeen TX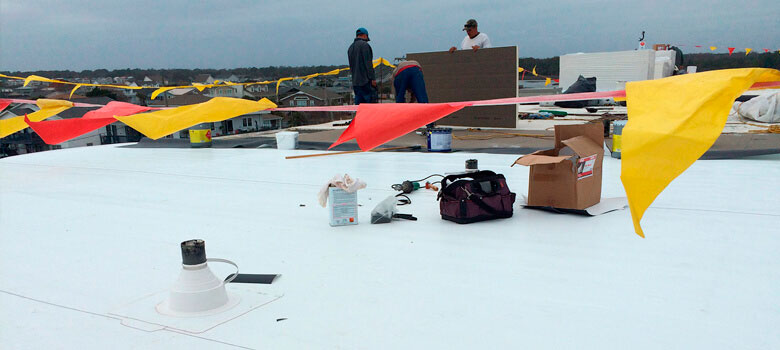 If you have been looking for reliable TPO Roofing Systems in Killeen TX Pancho's Roofing has you covered. Pancho's Roofing ha successfully delivered top of the line roofing solutions at competitive prices. More particularly, we have been the leading TPO roofing contractors around. A TPO roofing system varies in both size and its thickness- our roofing contractors at Pancho's Roofing make sure to deliver the best size, color, and thickness for your estate.
TPO Roofing Systems in Killeen TX have always been durable and effective in meeting the property's owners demand in roofing. TPO Roofing Systems in Killeen TX from Pancho's Roofing, do more than just meet your demands, it exceeds your expectations. A high quality TPO Roofing system, like the one we offer, offers a great array of roofing design specifications- you can get custom with TPO Roofing.
In addition, A TPO Roofing Systems in Killeen TX installed by Pancho's Roofing offers immense flexibility even at the lowest of temperatures meaning you don't have to worry about damages during cold seasons like winter.
Furthermore, TPO roofing Systems in Killeen TX deliver energy efficiency benefits. TPO systems are built to have heat reflective properties hence you save money on energy bills down the line. TPO systems from Pancho's Roofing are also environmentally friendly which is a bonus if you are all about going green. At Pancho's Roofing we make sure your TPO Roofing Systems in Killeen TX doesn't just look remarkable but as well, works efficiently for a lifetime.
Contact the professional roofing contractors from Pancho's Roofing and we will get started on your TPO Roofing System installation in no time. With Pancho's Roofing you can always rest in the thought that your roofing projects will always be on time and on budget. Call us now so we can get closer to delivering a fully functional and beneficial roofing system.
Get a Free Estimate
---
More Services