T.P.O Roofing System in Dallas TX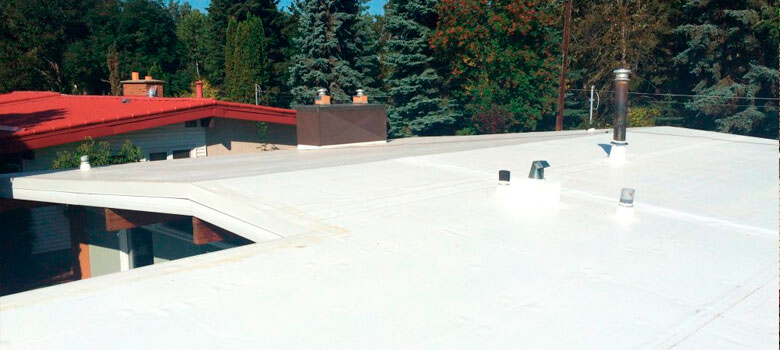 For over years mankind has been perfecting processes to help us produce and maintain that produce under good environmental conditions. Over the years it has been made under specific designing requirements for big galleys, high buildings in which products need to be kept and protected. It is also used in buildings to keep the interior temperature pleasant when there is high people occupancy.
It has recently found its way into residential properties along flat roofs. Pancho's Roofing is able to assist you on the many techniques to install T.P.O Roofing System in Dallas TX.
At Pancho's Roofing we are leading competitors when caring for your TPO roofing system, we take our customers into choosing what available colors suits better for their design, since these roofs are only available in white, black colors and gray. With our professional expertise and experience doing this kind of job we keep advising our clients that a white TPO will be able to perform better reflecting and eliminating heating temperatures.
We are the choice with the highest level of certification concerning the installation and repair of T.P.O Roofing System in Dallas TX with this we are sure to guarantee you superior results and great professional commitment into every singularity of your project. We take pride in all the jobs that get involved in because we deliver them with precision, meeting our customers specifications and needs.
Whether you are a commercial contractor, residential builders, a building owner, a property manager or a homeowner who appreciates quality workmanship and expect superior customer service we are your team to go when TPO roofing is needed. When in this business people might set you to believe TPO roofing is as difficult to pronounce as it is to be installed, we are here to break all those myths! First off TPO roofing is durable and most of all resistant to tears; the flexibility that TPO has over say PVC, if far much more.
TPO roofing IS able to withstand high chemical exposures, damaging UV rays, bacteria and dirt. By now we are the only roofing installers that can help you accomplish premium results whenever you need T.P.O Roofing System in Dallas TX. Do not hesitate to give us a Call us and get a free estimate available. Pancho's Roofing is here to assist on any doubts concerning TPO roofing installation, repair and performance.
Get a Free Estimate
---
More Services